FP 05 – Beyond The Beatles Part 4 – John Lennon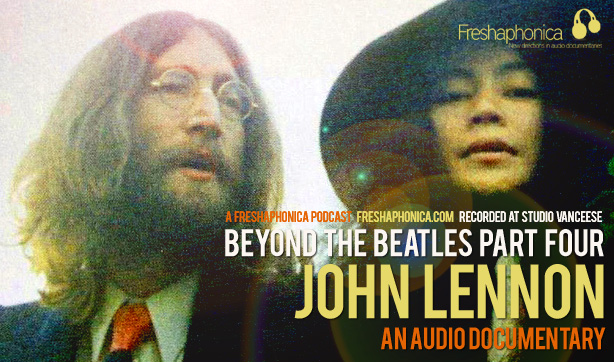 Episode: Popout player | Right click to download mp3
FP 05: Beyond the Beatles Part 4 – John Lennon – Shownotes
This is the fourth and final part of this Beyond The Beatles series, looking at the vast body of work created by John Lennon while still with, but not involving, The Beatles during the 1960s.

Part 1 – George Harrison »»
Part 2 – Ringo Starr »»
Part 3 – Paul McCartney »»

John Lennon's creative side was evident even back when he was still in school, creating a 'magazine' (actually a textbook) filled with drawings, poems and prose, called the Daily Howl. His active mind and need to create continued into his career with The Beatles and he was the first to do something significant outside the band when he released his first book, In His Own Write on 23rd March 1964.
Such was the book's success,  a further collection of  humourous pieces, A Spaniard in the Works, was released in June 1965.  In 1968, a stage play was composed and performed which combined elements of both Lennon's books. (Lennon continued to write well into the 1970s as evidenced by the posthumous release, Skywriting By Word Of Mouth in 1986.)
After The Beatles decided to quit touring in 1966 and before the recording sessions for Sgt Pepper, John Lennon branched out into acting, playing a hapless soldier on a mission in Tunisia, in the film How I Won The War, directed by Richard Lester (A Hard Days Night and Help!).
After meeting Yoko Ono in 1966, and beginning a full blown relationship in 1968, Lennon and Ono did a series of experimental projects together that were completely outside the scope of The Beatles. These included:
Music
Unfinished Music No. 1 – Two Virgins (1968)
Unfinished Music No. 2 – Life With The Lions (1969)
The Wedding Album (1969)
Films
Smile (Film No.5) (1968)
Two Virgins (1968)
Rape (1968/69)
Yoko & Me (1968)
Rape (1969)
The Ballad of John & Yoko (1969)
Mr & Mrs Lennon's Honeymoon (1969)
The Bed-In (1969)
Self Portrait (1969)
Freedom Films (1970)
Up Your Legs (1970)
Erection (1971)
Fly (1971)
Clock (1971)
Imagine (1971)
Other Projects
You Are Here Art Exhibition (1968)
Amsterdam Bed-In (1969)
Montreal Bed-In (1969)
Give Peace A Chance single (1969)
Cod Turkey Single (1969)
Instant Karma single (1970)
Live Peace In Toronto – (1969) – Concert by the Plastic Ono Band played at the Toronto Rock and Roll Revival Festival
Credits & Acknowledgements
TheBeatlesRarity.com, BeatlesBible.com, The Financial Times, Independent.co.uk, YouTube.com, Wikipedia.org, The Real John Lennon Documentary, Bed Peace Documentary, The US vs John Lennon Documentary, Tom Maschler, Yoko Ono, Andy Peebles, David Frost, Richard Lester, Rolling Stone, Jann Wenner, Playboy, Newsweek, Dave Sholin/RKO Radio, Elliot Mintz, Fred Seaman, Jonas Mekas, Sotherby's, Ringo Starr, George Harrison, Paul McCartney, Julia Lennon, Victor Spinetti, Michael Crawford, Blue Note Records, Capitol Records, Apple Records, EMI, In His Own Write and A Spaniard In The Works by John Lennon, Skywriting By Word Of Mouth by John Lennon, Clapton: The Autobiography by Eric Clapton, The Lives Of John Lennon by Albert Goldman, Prism Films.
Part 1 – George Harrison »»
Part 2 – Ringo Starr »»
Part 3 – Paul McCartney »»
Part 4 – John Lennon »»