FP 02 – Beyond The Beatles Part 1 – George Harrison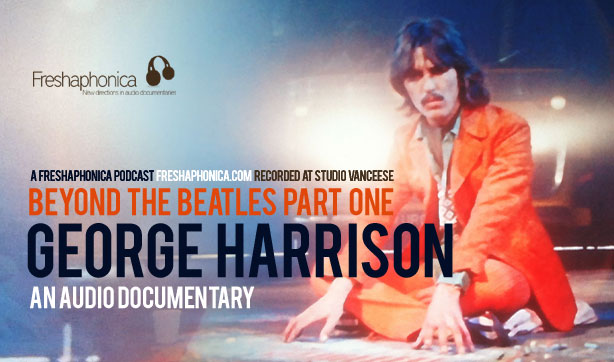 Episode: Popout player | Right click to download mp3
FP 02: Beyond the Beatles Part 1 – George Harrison – Shownotes
The first of a 4-parter looking at each of the Beatles' first solo recordings, this episode concentrates on George Harrison's 1968 album Wonderwall Music, a soundtrack to the psychedelic movie, Wonderwall, directed by Joe Massot and filmed in Notting Hill, London.
Part 2 – Ringo Starr »»
Part 3 – Paul McCartney »»
Part 4 – John Lennon »»
This mini-series was inspired by my discovery that Harrison's All Things Must Pass album (1970) was not his first solo album, merely his first solo album post-Beatles. Having made this discovery, I knew I wouldn't be the only person interested in the story behind  Wonderwall Music, so I decided to share it with you.
Naturally, this led me on a journey of discovery to the film itself, Joe Massot's Cannes award-winning short film, Reflections on Love (1965), as well as Harrison's little-known second solo album, the experimental Electronic Sound (1969).
Have a listen to the episode and please leave a comment with your thoughts in the comments section below.  You can also subscribe to get the rest of the upcoming episodes of 'Beyond The Beatles' via iTunes or RSS.
Know a George Harrison, Beatles or music fan? Then please pass on this Freshaphonica episode if you think they might enjoy it! http://freshaphonica.com/02
Recommended Further Investigation
Arena – George Harrison: Living In The Material World – Directed by Martin Scorcese
Bombay's Beatle (Radio Show) by Sarfraz Manzoor
Reflections on Love (1965 Short Movie) – Directed by Joe Massot
Credits & Acknowledgements
(Much great work has been done by many other people on George Harrison over the years and I hope I have included all sources for this episode in the list below.)
Apple Records/EMI Music Group/Capitol Records, Rhino Entertainment, BBC Arena – 'George Harrison – Living in the Material World' & 'Magical Mystery Tour Revisited', Sarfraz Manzoor – 'Bombay's Beatle', BeatlesBible.com, MarmaladeSkies.co.uk, Steve Turner – 'A Hard Day's Write' (Carlton Books), Elsewhere.co.nz, Blue Note Records…