HIGHER GROUND: STEVIE WONDER, ARETHA FRANKLIN, CURTIS MAYFIELD AND THE RISE AND FALL OF AMERICAN SOUL BY CRAIG WERNER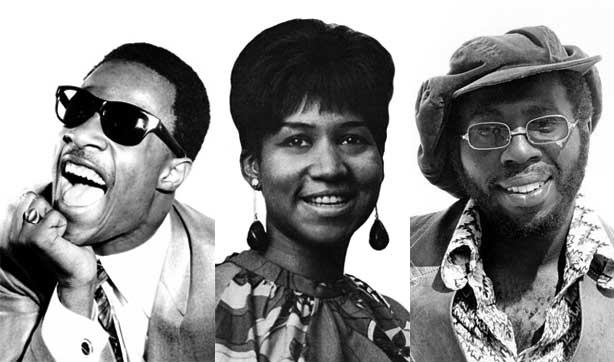 The main reason I wanted to read this book was because of the lack of detailed written work on Curtis Mayfield.
As author Craig Werner asserts towards the end of the book, while the work of all three of the protagonists experienced a commercial decline by the end of the 1970s, Aretha and Stevie became bona fide 'celebrities', often being called upon to be involved in charity or political events during the 80s and 90s.
On the other hand, Curtis Mayfield sold his record company in 1980 and fell into semi-obscurity for the remainder of the decade, enjoying the freedom from running a business and combining bringing up a big family with low-key touring commitments, not really hitting the headlines again until his life-changing accident in 1990.
As a result, much less has been written about Mayfield and there is little out there that reveals much about the man behind the music, which is why, as a huge Curtis Mayfield fan, Higher Ground became top of my 'must read' list.
The author conducted interviews with Mayfield associates like Jerry Butler, Eddie Thomas and Mavis Staples, as well as the man himself. The book provided me with excellent information that I hadn't seen anywhere else including his thoughts on the civil rights movement, Jimi Hendrix, his childhood, his film soundtracks, the stresses of running his own business and why he tried disco.
For me, the parts about Mayfield were worth the price of the book alone, but I learnt a lot about Stevie and Aretha as well, whose lives I found equally interesting, including their early artistic struggles, development of their sound and the quest to get more autonomy over their output.
Craig Werner goes into detail about the recordings of all three artist's best work, but also very interestingly looks at their lesser work, discussing the drawbacks and the battles in their personal lives that they were suffering at the time. All without sensationalising the situations.
All of the musical discussion is set against the backdrop of what was happening in Black America, with detailed accounts of civil rights activity in Detroit, Chicago and elsewhere. Werner skillfully links it together with Wonder, Franklin and Mayfield's upbringing in the gospel churches, how being black in the 40s and 50s shaped their musical personalities and how they themselves impacted upon black communities and the civil rights movement, who looked to them for inspiration.
A great read for a fan of all three artists and soul music in general, as well as providing an interesting historical analysis of how and why Stevie Wonder, Aretha Franklin and Curtis Mayfield developed into the legendary artists that they became.
Higher Ground: Stevie Wonder, Aretha Franklin Curtis Mayfield and the Rise and Fall of American Soul by Craig Werner is available at Amazon below: