FP 03 – Beyond The Beatles Part 2 – Ringo Starr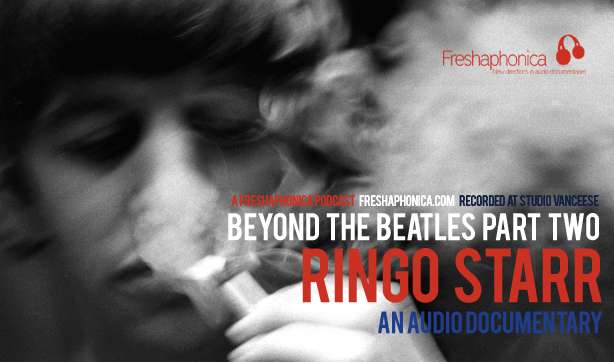 Episode: Popout player | Right click to download mp3
FP 03: Beyond the Beatles Part 2 – Ringo Starr – Shownotes
The second of a 4-parter looking at each of the Beatles' early solo careers, this looks at the under-discussed early solo career of Ringo Starr, which was arguably on a par with his former colleagues.
Part 1 – George Harrison »»
Part 3 – Paul McCartney »»
Part 4 – John Lennon »»
While the Beatles were still together, Ringo fancied branching into acting, having enjoyed filming A Hard Day's Night and Help! He took on a small role in Candy (1968), playing a Mexican gardener and followed it up the next year playing Peter Sellers' son in The Magic Christian (1969). Neither movie was particularly well-received, but it helped Ringo to realise that the breakup of the Beatles did not necessarily spell disaster.
In terms of music, Ringo released Sentimental Journey (1970) which consisted of songs from his childhood. It was stylistically very different from the Beatles, consisting of old standards given big arrangements but a whole host of big-name arrangers. Not to be taken too seriously, Sentimental Journey (originally to be called 'Starrdust' but Ringo didn't like the pun!) is a fun listen which is very different from the other three Beatles' early output.
Later that year, Ringo followed up with Beaucoups of Blues (1970), which was an album full of country songs, recorded in Nashville with another set of gifted musicians, including some of Elvis' backing band. Very different in style to Sentimental Journey and anything the Beatles did, it's well worth a listen to hear Ringo doing a country croon.
1971 and 1972 saw the releases of the singles Don't Come Easy and Back Off Boogaloo respectively, both of which did very well in the charts. Ringo released probably his best album in 1973 called Ringo, which again contained a plethora of big-name musicians and had two singles (You're Sixteen and Photograph) which both hit number 1 in the US singles chart.
Other songs I recommend in Ringo's back catalogue are:
'Wings' from Ringo the 4th (1977)
'Drowning In The Sea Of Love' from Ringo the 4th (1977) – worth it for hearing Ringo try and do serious disco!
'Wrack My Brain' from Stop & Smell The Roses (1981) – Written by George Harrison and featured at the beginning of this episode.
'Weight of the World' from Time Takes Time (1992)
'Wings' from Ringo 2012 (2012) – Great rerecording of the 1977 track
Have a listen to the episode and please leave a comment with your thoughts in the comments section below.  You can also subscribe to get the rest of the upcoming episodes of 'Beyond The Beatles' via iTunes or RSS.
Know a Ringo Starr, Beatles or music fan? Then please pass on this Freshaphonica episode if you think they might enjoy it! http://freshaphonica.com/03
Recommended further investigation
Credits & Acknowledgements
EMI Music, Cinema Club, Universal Pictures, BBC Television, Blue Note Records, BeatlesBible.com