FP 01 – Being Jimi Hendrix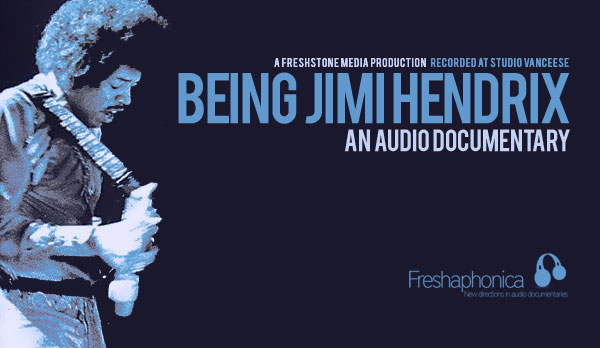 Episode: Popout player | Right click to download mp3
FP 01: Being Jimi Hendrix – Shownotes
I wanted to open the Freshaphonica Podcast with this audio documentary taking a look at Jimi Hendrix (27th Nov 1942- 18 Sept 1970) and his time in the spotlight, featuring interviews, music and analysis.
2012 marks the 70th anniversary of the birth of the great man and I have aimed to present a fair and balanced look at Jimi Hendrix, celebrating his many achievements whilst also appreciating that his fame did not always bring him happiness.
The albums released during his lifetime were Are You Experienced? (1967), Axis:Bold As Love (1967), Electric Ladyland (1968), Band Of Gypsys (1970). All other albums are posthumous releases.
The Jimi Hendrix Experience were: Jimi Hendrix (guitar & vocals), Mitch Mitchell (drums), Noel Redding (bass) & Billy Cox (bass)
The Band of Gypsys were: Jimi Hendrix (guitar & vocals), Buddy Miles (drums & vocals) & Billy Cox (bass).
Jimi Hendrix' managers were: Mike Jeffrey (aka Mike Jeffries) & Chas Chandler
Electric Lady Studios are still up and running and are located at 52 West 8th Street, Greenwich Village, New York
The final tour dates were:
30th Aug 1970 – Isle of Wight Festival – UK
31st Aug 1970 – Groena Land, Stockholm – Sweden
1st Sept 1970 – Lisaberg, Gothenburg – Sweden
2nd Sept 1970 –  Vejlby Risskov Hallen, Aarhus – Denmark
3rd Sept 1970 – KB Hallen, Copenhagen – Denmark
4th Sept 1970 – Deutschlandhalle, Berlin – Germany
6th Sept 1970 – Fehmarn Festival – Germany
16th Sept 1970 – Ronnie Scotts Jazz Club, London – UK – Guest appearance with Eric Burdon & War
The 'controversial' girlfriend was Monika Dannemann.
Please leave any comments below, contact me on Twitter or Facebook and if you enjoyed it, I would be grateful if you went over to iTunes and left me a favourable review and rating!
Recommended further reading
This is not an exhaustive list by any means but I have personally read all of these publications and they provide excellent insights into Jimi Hendrix from a wide range of different viewpoints:
A special thanks to the incredibly knowledgeable and helpful community at Crosstowntorrents.org, a wonderful Hendrix resource.
Jimi Hendrix on iTunes / Jimi Hendrix on Amazon UK / Jimi Hendrix on Amazon US
Credits
(All music and interview clips used in this programme have been created and released somewhere else in previous Hendrix-related productions by the hard work of others and I am in no way claiming they are unique to this documentary. I hope to have included the organisations and individuals concerned in the list below.)
Experience Hendrix LLC,  Sony Legacy/Sony Music Entertainment, Repertoire Music, Blue Note Records/EMI, ITV/London Weekend Television, BBC Radio 1, Warner Home Video, Crosstowntorrents.org, Noel Redding, Carol Appelby, Charles R Cross, Sharon Lawrence, John McDermott, Eddie Kramer, Harry Shapiro, Caesar Glebeek, Monika Dannemann, Tony Brown, Martin Shankleman, Keith Altham, Thomas "Meatball Fulton" Lopez, Nancy Carter, Gered Mankowitz, ElectricLadyStudios.com, FehmarnMusicFestival1970.com, NME, YouTube, Michael Fairchild/RockProphecy.com, TheSmokingGun.com …..