FP 06 – Curtis Mayfield – The Soundtracks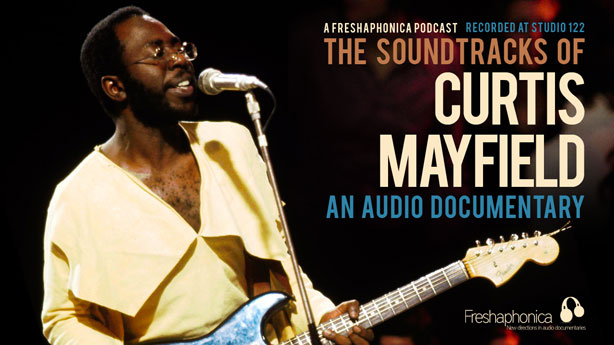 Episode: Popout player | Right click to download mp3
This Freshaphonica episode explores the six movie soundtracks that Curtis Mayfield composed between 1972 – 1977.
Before completing his first soundtrack, Superfly, in 1972, Curtis had already had been in the music business for around 15 years. He'd performed in and written many songs for his own band The Impressions, as well as composing songs for a huge number of artists including Jerry Butler, Gene Chandler and Major Lance, almost single-handedly keeping the Okeh Records label in business during the early to mid sixties.
In 1968, the Impressions ended their contract with ABC and switched over to Curtis's newly formed Curtom Records, where Curtis starting building his own business empire and started recruiting other artists to the label such as Donny Hathaway, Leroy Hutson and Baby Huey.
Having built a reputation as a songwriter who could write love songs or socially conscious statements with equal conviction, by 1970 Curtis felt he need to spread his wings and start making music for himself without having to write within the confines of a vocal trio. This led to him leaving the Impressions and releasing his classic debut album 'Curtis' in September 1970.
By 1972, Curtis was already one of the biggest and well-respected names in soul and his popularity crossed over into the mainstream once he released his groundbreaking Superfly soundtrack, which sold in huge numbers, won many awards and went to #1 in most US charts.
While Superfly is undoubtedly a brilliant soundtrack and is quite rightly lauded as one of the greatest soundtracks of all time, it often gets forgotten that Curtis wrote a further 5 soundtracks that were also of very high quality.
This Freshaphonica documentary naturally discusses Superfly but also highlights Curtis's other, somewhat under-discussed soundtracks, giving further information, playing song clips and generally bringing attention to the reason why Curtis Mayfield was known in the 1970s as the 'King of the Soundtrack'.
The Curtis Mayfield Soundtracks
SUPERFLY feat. Curtis Mayfield – Movie released July 1 1972
CLAUDINE feat. Gladys Knight & The Pips – Movie released April 22 1974
LET'S DO IT AGAIN feat. The Staple Singers – Movie released October 11 1975
SPARKLE feat. Aretha Franklin – Movie released April 7 1976
SHORT EYES feat. Curtis Mayfield – Movie released September 28 1977
A PIECE OF THE ACTION feat. Mavis Staples – Movie released October 7 1977
Credits & Acknowledgements
Travelling Soul: The Life of Curtis Mayfield by Todd Mayfield
Curtis Mayfield: People Never Give Up by Peter Burns
Higher Ground: Stevie Wonder, Aretha Franklin, Curtis Mayfield & the Rise & Fall of American Soul by Craig Werner
I'll Take You There: Mavis Staples, The Staple Singers & the March Up Freedom's Highway by Greg Kot
Respect: The Life of Aretha Franklin by David Ritz
Aretha: From These Roots by Aretha Franklin & David Ritz
The Music & Message of Curtis Mayfield & The Impressions DVD
One Last Deal – SuperFly Documentary
Curtis Mayfield – Darker Than Blue – BBC Omnibus Documentary
VH1 Legends Week – Curtis Mayfield Documentary
The Sound Of Young America – Bullseye with Jessie Thorn – Mavis Staples Interview
Miguel Piñero – Seeking The Cause
Warner Bros Records, Curtom Records, Blue Note Records, Blues & Soul Magazine, Soul Train,  Gawker.com, Ebony.com, USAToday.com, YouTube, Wikipedia,