Ladies & Gentlemen: Lenny Bruce!! by Albert Goldman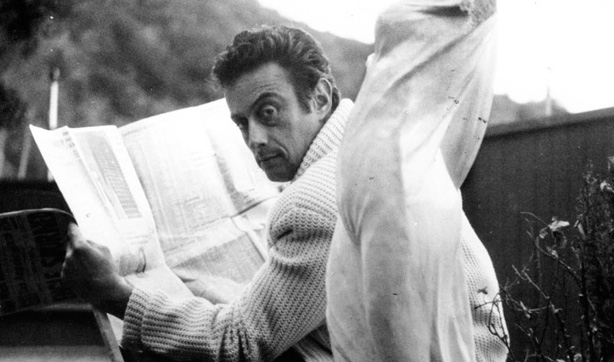 Upon picking up a battered copy of this book cheaply on eBay, I had very little idea who Lenny Bruce actually was. The extent of my knowledge was he was an American comic who died fairly young and….er….that's about it.
My reason for reading the book stemmed from my interest in the author, Albert Goldman. I read his controversial biographies of Elvis and John Lennon, books that weren't shy in delving into the nitty gritty of their drug taking and sexual tastes, and thoroughly enjoyed them. I had been led to believe that these were trashy, tabloid-style exaggerations simply designed to titillate. But I quickly realised that they were very well written by a very well-educated writer, who was passionate about his subjects and who had clearly gone to a lot of trouble researching his books.
Polarising though these books were, the common ground i kept coming across in my online research was that neither of these biographies were as good as Goldman's epic on Lenny Bruce.
The book opens with a bang, detailing a typical day in the life of Lenny Bruce – holing up in a seedy New York hotel, comedy bits, shooting up (drugs not guns) and general tales of chaos and spontaneity.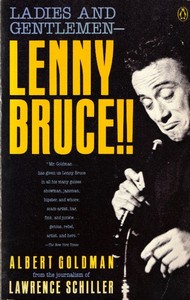 The chapters continue, detailing Lenny's early life and his long road to fame and the evolution of his act from a bad impressionist introducing strippers, to his quick-witted, cutting stream-of-consciousness satire on society, which earned him $1000s per week at his peak.
Well-documented is his obscenity and narcotics busts and subsequent trials, including descriptions of Lenny's performances in the courtroom, which ranged from outright hilarious, to excruciatingly embarrassing, to incredibly sad.
The revelations of Lenny's descent into near-madness and obsession with the finer points of law by reading countless law books and papers, generated mixed feelings over his plight into financial and career ruin. On the one hand, he was a hopeless drug addict, who was a slave to his addiction. Yet on the other hand, he comes across as a breath of fresh air who was unfortunate to live in a time where the conservative authorities were quick to clamp down on anyone perceived to be disrupting and corrupting society. Ironically, his stuff now seems rather tame when compared to much of what is said in live comedy shows today.
However, it can't be denied that Bruce was a pioneer of free speech and he paid a heavy price fighting for the right to say what he wanted on stage, a legacy that countless comedians today have benefited from. As the book documents very well, having contributed so much to the fight for free speech, it's tragic that he died a bloated, paranoid shadow of his former quick-witted self of an overdose at the age of 40 in 1966.
Goldman clearly did his research, aided and abetted by Larry Schiller who also conducted many interviews for an aborted other book on Bruce. Goldman knew Lenny Bruce quite well (apparently) and is clearly a big fan of Bruce's best work, but this book is far from a sycophantic one-sided view. Goldman isn't afraid to highlight Lenny's hypocricies or to criticise his substandard work and overall turns in a thoroughly balanced and engaging life story.
I enjoyed the book so much that it caused me to seek out the works of Lenny Bruce, which can only be a good thing. I'm glad I made the effort to hear the original material as hearing it from the mouth of Lenny with all his inflections, emphasis and rhythmic delivery, transforms them into fantastic works of art, rather than flatly reading them from the book.
Anyone who is aware of Albert Goldman only through his Elvis and John Lennon biographies should leave their assumptions at the door and approach this excellent book with an open mind. Goldman doesn't write with the same negative tone that permeates through the aforementioned biogs and you get the impression that Goldman was really intent on writing a comprehensive life story of Lenny Bruce,  and he succeeds in making this book a thoroughly entertaining and informative read.
'Ladies & Gentlemen: Lenny Bruce!!' by Albert Goldman on Amazon »»